THOMPSON'S Immunofort Tablets 60's
Our Price
Our Price:
$26.50
Elsewhere
$37.50
Elsewhere
Contains vitamins, including A, C, B, E that supports healthy immune function.
Contains minerals, including zinc and selenium that supports healthy immune function.
Contains herbs, including Echinacea, Andrographis, Olive Leaf, Shiitake Mushroom for immune system support and Ginseng for adrenal support during times of stress.
Contains nutrients, including amino acids and quercetin for added immune protection.
Contains antioxidants including vitamins A, C, E
Aids in maintaining general wellbeing
Suitable For:
People  with busy lifestyles who want to support their immune health
When travelling
In times of stress and worry
DIRECTIONS:
Adults – Take one or two tablets daily (with food), or as professionally advised.
Use only as directed and always read the label
Vitamin supplements should not replace a balanced diet
If symptoms persist consult your healthcare professional
Not recommended for use in pregnant or lactating women.
INGREDIENTS: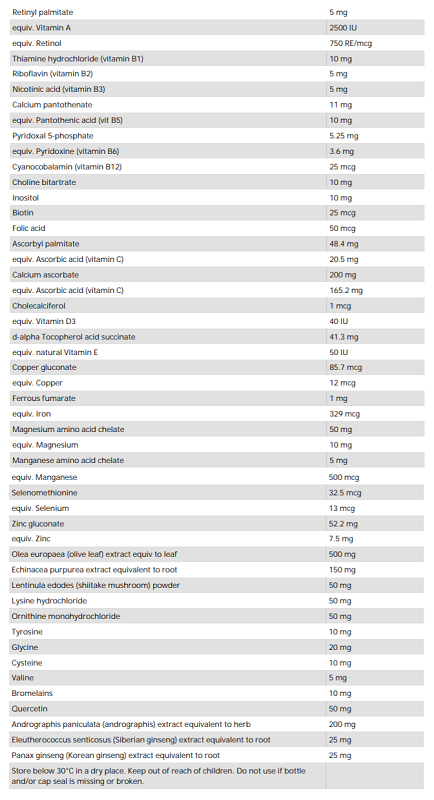 No Added: Gluten, lactose, nuts, peanuts, fish, shellfish, dairy, egg, sesame seed, artificial colouring and preservatives